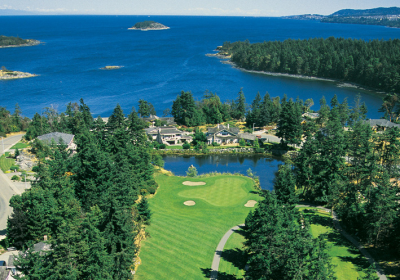 Ever wondered where the warmest, sunniest spot in all of Canada is? Look now further than Fairwinds Resort on Vancouver Island. And as luck would have it, this site is a real estate development offering a stunning golf course, marina, and ocean view properties.
Fairwinds Resort offers the perfect location for discerning buyers seeking the quintessential West Coast lifestyle. Real estate developments currently selling within the resort area include the Fairwinds golf-course communities of Bonnington Ridge, Bonnington Heights, and Rockcliffe Park each offer a unique opportunity to embrace an active lifestyle in a location that is "city-close yet country-quiet."
Bonnington Ridge
The Bonnington Ridge neighbourhood is a cul-de-sac of fully serviced single-family lots, many with ocean and golf-course views. Homes at Bonnington Ridge integrate first-class luxury living with the natural beauty and tranquility of the surrounding area. Bonnington Ridge has three remaining lots: Lot SL4 is .54 acres and $229,000; Lot SL5 is .36 acres and $239,000; and Lot SL6 is .35 acres and $289,000.
Bonnington Heights
At nearby Bonnington Heights, only one residential lot is left. Perfectly situated for a new custom home, Lot 42 on Bonnington Drive comprises .43 acres and is priced at $159,000.
Rockcliffe Park
Rockcliffe Park features a limited collection of luxuriously modern patio homes in a natural park setting. Choose from three elegant floor plans to create your ideal home. The patio homes in Rockcliffe Park are designed for entertaining and low-maintenance living, offering a modern look with vaulted ceilings, gourmet kitchens, and exterior stone accents.
Why Choose Fairwinds?
With over 700 homes and home sites developed to date, Fairwinds is centrally located between Nanaimo and Parksville in Nanoose Bay, on the east coast of Vancouver island. Blessed with Canada's mildest climate and conveniently accessed by car, ferry, boat, or plane, Fairwinds features a spectacular golf club, Schooner Cove Marina, and a recreational fitness facility.
Contact Information
For more information on building a custom home at Bonnington Ridge or Bonnington Heights, call 250.468.7061​ or 1.866.468.5957, or visit the Rockcliffe Park website.