Meet Clarice Coty
Founder of Building Links
Clarice is the founder of Building Links, the best-known source for construction industry news for North Vancouver Island. Building Links has been published weekly for the past 26 years. In 2018, Clarice sold the business.
1stView.ca – New Residential Vancouver Island Real Estate
Clarice is also the founder of the website, 1stView.ca, the only online directory of new residential real estate on Vancouver Island. The site has drawn thousands of visitors and is considered an essential part of a real estate marketing plan for any new development.
Community Experience
Clarice is a past board member of the Comox Valley Chamber of Commerce, the Economic Development Society, the Living Green, Building Green Conference, the Creative Employment Access Society, the Comox Recreation Commission Society and was the Vice President for YANA for seven years, a non-profit society that raises money for children and their families who have to travel outside of the Comox Valley for medical care.
Clarice Coty Receives Comox Valley Chamber's 2009 Professional Merit Award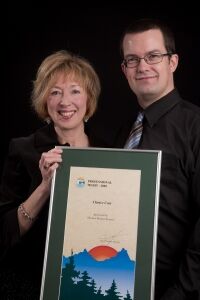 The Chamber describes the Professional Merit Award as "a recognition of an individual, group or organization that has made a significant contribution to the development, ethical stature or recognition of their area of professional endeavour. Presented by the Comox Valley Chamber of Commerce, Clarice Coty was selected as the recipient for 2009.
The Annual Economic Conference for the Comox Valley
Ms. Coty has previously organized an annual economic event to bring industry experts such as Joe VanBelleghem, Larry Pollock and Helmet Pastrick as keynote speakers to address a sold-out audience about upcoming real estate and construction trends.