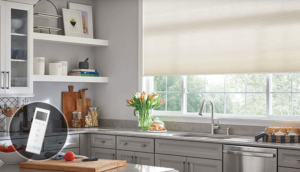 Budget Blinds on North Vancouver Island is a leader in automation for window coverings, and other smart home technology.
While many of use tools like smart speakers and thermostats to modernize our in-home technology, we often forget that window coverings can also be automated to enhance the comfort and security of your home.
The Smart Home Collection by Budget Blinds includes top tech brands that provide homeowners with a suite of state-of-the-art solutions to update their home's functionality. Control your window coverings, lighting, climate, home security and entertainment systems, all with the push of a button from your smartphone, tablet, remote control, or keypad.
And Budget Blinds can also work with your existing window coverings to retrofit them with new technology. Motorized retrofit solutions offer significant savings compared to an all-new motorized system, and allow you to program window coverings on timers to open and close at specific times during the day to help save on energy costs and improve home security while you're away.
Motorized window treatments allow you to control and schedule the positioning of your window coverings for enhanced, on-demand privacy, and since they are cordless, they provide a safer environment for children and pets. Motorized window treatments can also include sensors that automatically adjusting your window coverings with rising temperatures.
Find the technology you want at your locally-owned Vancouver Island Budget Blinds store. Budget Blinds of the North Island is located in Courtenay and serves Campbell River, the Comox Valley and surrounding communities.
Contact them today at 250.338.8564, visit their showroom at 8 – 2663 Kilpatrick Avenue, Courtenay, or request a free in-home consultation online.