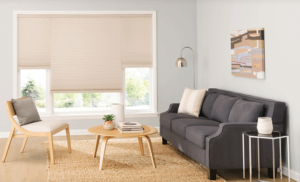 It's getting colder! Have you considered that the window coverings you choose can significantly affect the energy efficiency of your home? Having the proper window shades, blinds or curtains can save you money on your home heating bills this winter. Budget Blinds of the North Island has all of the choices you need for your home.
As much as 50 per cent of a home's heating energy can be lost through its windows, but there are ways to save. Instead of cranking up your heat (and your bills), Budget Blinds provides a versatile selection of blinds, shades, shutters, and window film that stylish and energy-efficient.
The average house with 15 windows, can, when properly equipped with energy-efficient window coverings, achieve annual energy savings of about $150, according to Budget Blinds.
And now you can save even more – Budget Blinds of the North Island is currently offering a $350 rebate for every $1,000 spent on custom window coverings. Now is the time to ensure your home both looks great and stays cozy over the cold winter months.
Contact them today to set up an in-home consultation with a design expert: Contact Budget Blinds of the North Island or visit their showroom at 8 – 2663 Kilpatrick Avenue in Courtenay. From that showroom, consultants serve the Comox Valley, Campbell River and the North Island.
Call 250.338.8564 or request a free in-home consultation online.