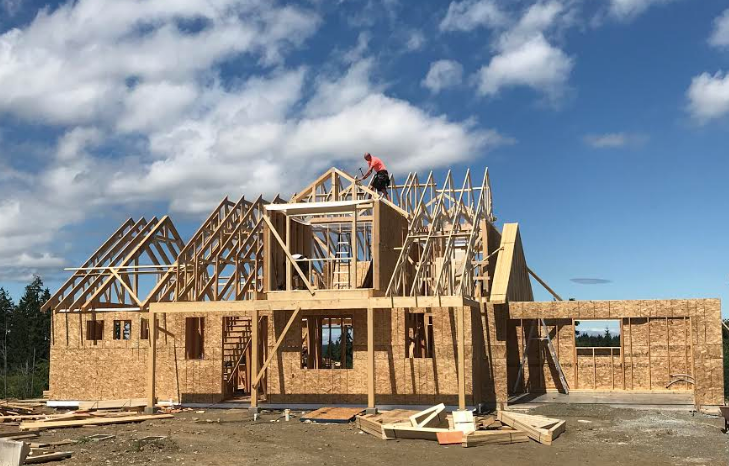 In the span of two months, the coronavirus crisis has demanded sweeping changes from the construction industry in North America, and experts say many of them will remain in place even after the outbreak recedes.
As contractors prepare to return to work on sites that have been shut down by shelter-in-place initiatives, they will face an industry that has been drastically changed by both public health and economic effects of the pandemic.
Here are eight ways that COVID-19 has altered the construction industry for the near future and beyond.
1. Jobsites will be cleaner and safer
The virus put a spotlight on the importance of worker health and safety, and U.S. contractors responded by implementing new jobsite policies such as staggered shifts, employee temperature checks and top-to-bottom disinfections of jobsites, tools and machinery.
2. Distancing will be the norm, via technology
The current emphasis on social distancing on jobsites will likely continue even after the current health threat passes, attorney Michael Rubin, chair of Goldberg Segalla's national OSHA and Worksite Safety practice group told Construction Dive. "We can expect to see less group activities and more clearly defined procedures and protocols for even some of the most routine work tasks," he said.
Even as the current outbreak subsides in many areas, state and local officials are putting measures in place to mitigate risk on construction sites going forward. For instance, new guidance in Washington state requires that jobsite employees keep 6 feet away from each other and non-compliance could lead to a project shutdown.
3. Projects will take longer
Many of the major safety changes on construction sites will add to the time it takes to complete projects. While crucial to keeping workers healthy, techniques such as suiting up with PPE, only allowing one trade on a site at a time and staggering work shifts will slow down progress and the days of fast-tracking a project may be over — at least for now, experts say.
"Construction schedules will not be the same as they used to be," said Mike Benike, executive vice president at Rochester, Minnesota-based Benike Construction, during a recent COVID-19 webinar sponsored by Destination Medical Center, a public-private economic initiative in Rochester, Minnesota. ​​"Things will take a little longer because we won't be able to have lots of people in the same place at the same time."
4. Telework will become more common
The coronavirus has also brought major changes to construction's back offices. Forced to stay at home, many office employees have kept business operations running via remote work, relying on technology like videoconferencing, emailing and texting to stay in touch.
This nationwide experiment in telework will likely cause many leaders to think about making the practice permanent. A recent Gartner study found that 74% of American companies will move at least 5% of their office workforce to permanently remote and nearly a quarter of respondents said they will move at least 20% to permanently remote positions, according to a survey of the company's chief financial officers.
5. Union influence will grow
During the crisis, unions have provided a voice for workers who are struggling to decide whether they should stay home or go to work, said Mark Erlich, a fellow at Harvard University's Labor and Worklife Program. Unions also help labourers find new work after a layoff.
"Clearly, being a union member has been enormously beneficial in the past few weeks," he said.
To get ready for this trend, general contractors should be prepared to collaborate with unions and ensure they create work environments that meet their high standards for jobsite health and safety, even if they operate in traditionally open shop states.
6. Demand for project types will change
The coronavirus outbreak has reshaped the types of projects that will be built this year and for many years to come. Hospitality, retail and entertainment projects are likely to be in less demand while healthcare construction and healthcare-related manufacturing projects could see more activity, according to Charles Hewlett​, RCLCO Real Estate Advisors' director of strategic planning.
In addition, demand for distribution and warehouse space may likely increase as U.S. companies favour higher inventory levels and emphasize supply chain resiliency over efficiency, Hewlett said.
7. Supply chains will recalibrate
Even before the outbreak hit the U.S., the coronavirus created major global supply chain disruptions, especially of goods from China, the source of about 30% of U.S. building materials last year. Government containment efforts and quarantines in China slowed or shut down factories in dozens of cities and provinces, leading to a falloff in production of everything from cars to smartphones. U.S. builders have noted delays and shortages in items like steel, surfacing and case goods.
8. Modular adoption will increase
An enhanced focus on worker safety will help accelerate the industry's move to offsite construction methods. While contractors like PCL, Clark and Mortenson have relied on prefabrication for many years, the coronavirus pandemic will motivate more firms to investigate the benefits of offsite building.
The assembly-line efficiency and climate-controlled environment of factory production can save on labour costs and shorten project schedules, but other advantages will take center stage in post-pandemic construction, according to Natarelli, including increased site safety and reduced congestion.