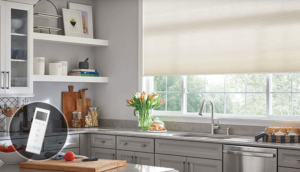 Budget Blinds on North Vancouver Island is a leader in automation for window coverings, and other smart home technology.
While many of use tools like smart speakers and thermostats to modernize our in-home technology, we often forget that window coverings can also be automated to enhance the comfort and security of your home.
The Smart Home Collection by Budget Blinds includes top tech brands that provide homeowners with a suite of state-of-the-art solutions to update their home's functionality. Control your window coverings, lighting, climate, home security and entertainment systems, all with the push of a button from your smartphone, tablet, remote control, or keypad.